Green Action
The Cedar Valley Unitarian Universalists are a Green Sanctuary. We strive to address climate change and environmental justice and move towards more sustainable practices. We firmly believe in the concept of "reduce, reuse, recycle," and we walk the talk though our recycling program at the CVUU. To help with our recycling at the CVUU, contact Trish Cook. See the CVUU directory for contact information.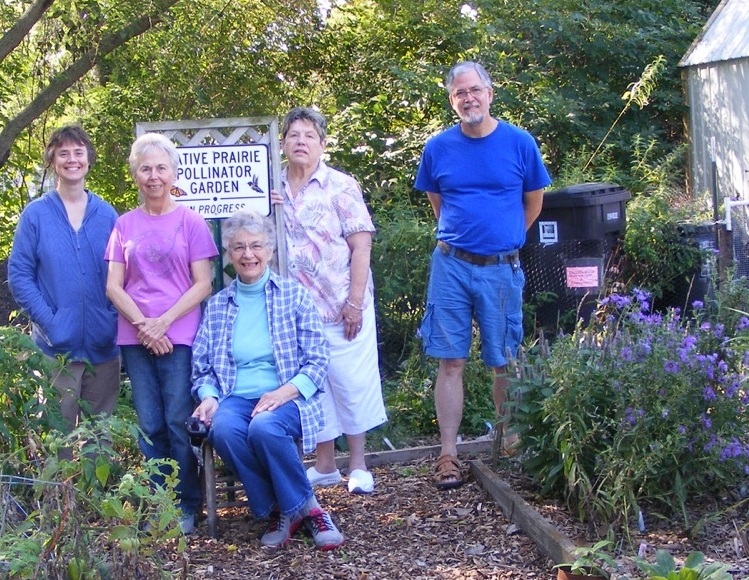 CVUU Native, Sustainable Pollinator Garden Project
According to Monarch Watch, butterflies lose habitat areas equivalent to the size of Illinois every 16 years. Butterflies–and other pollinator species–require specific types of plants to feed and reproduce. These region-specific grassland plants are just as threatened as the butterflies.
Guided by the seventh UU principle–"Respect for the interdependent web of life of which we are all part"–the CVUU Board in April 2015 approved putting 2/3 of our raised bed fenced garden space into prairie pollinator plants. They liked both the environmental intent and the practical effect of making the area easier to take care of.
After the garden spent 6 weeks under black plastic to kill off weeds and seeds, we planted seedlings purchased from IonXChange and transplants donated by members. In July, a prairie expert from UNI provided two hours of training on identifying invasive non-prairie plants. Throughout the summer, five teams of volunteer weeded and watered–and enjoyed snacks in the garden. By the end of the summer, the garden was flourishing with plant species such as Meadow Blazingstar, Anise Hyssop, Showy Goldenrod, and Pale Purple Coneflower.
The CVUU Garden is on the Plant.Grow.Fly registry of pollinator habitats sponsored by the Blank Park Zoo in Des Moines. For more information about the CVUU Pollinator Garden, contact Donna Davis or Sally Browne. See the CVUU directory for contact information.